Part one / Part two / Part three
No compelling reasons underlie the selection of Bury, Burton upon Trent, Wigan, Workington and Whitehaven. These are not places with a single major attraction. None fits neatly beside the adjectives we use to sell and hype a sense of place – quaint, fashionable, cool, happening, filmic. One reason for holidaying somewhere is that no one else does. But for this edition, food and drink are a tangential focus. A few decades ago, dining was a peripheral, an extra, for travellers; today there are festivals everywhere and every week, for seafood, rhubarb, curry, real ale, eels, seaweed and even tripe.
Food is about memory and industry, architecture and myth as well as flavours and feasting. It can be a way to look at a place, navigate it, comprehend it, and make sense of its absences and sorrows.
Bury
Bury – pronounced "berry", or "burry", like slurry – is a funny old town. For the residents of northern Greater Manchester and Lancashire and it's a posh place – that market, they say, the trams, and Ramsbottom, all lovely. Yet when uttered in a southern or even a Cheshire accent, it's another textile town with a hard, flat, short name. Watling Street (not to be confused with the Dover-Wroxeter one) ran from Mancunium (Manchester) to Ribchester. An old cross at Affetside village green is probably medieval, though speculative historians have wondered if it isn't in fact a Roman column. Another village, Ainsworth, is known hereabouts as "Cockey" and it's been claimed this alludes to the Roman stronghold of Coccium – more usually sited close to Wigan.
The old manor of Bury passed from Adam de Bury to the Pilkingtons (a family who once had feudal tentacles all over Lancashire) and then to the Stanleys (who still have). The Bury area, protected by the West Pennine moors and with almost half the rainfall of Burnley, had fine arable farms. When the Black Death decimated the working population, ploughed land became pasture. The grazing sheep were the basis of a woollen industry. Bury later turned to cotton and local inventor John Kay became a hero to some (and a villain to others) when he designed a flying shuttle that could speed up weaving and allow a single worker to produce wider swathes of cloth. Kay's technology caused Luddite riots but it was wage cuts and political corruption that led to the Chartists rising up in the 1840s. In response, Wellington Barracks was built as a home for the Lancashire Fusiliers. Bastions were built from which artillery could be fired at disgruntled millworkers. The barracks was demolished in 1969 but the HQ building still stands on Bolton Road; when it was turned into a business centre, the memorial outside – by Sir Edwin Landseer Lutyens, whose father was a captain in the Fusiliers – was relocated to Gallipoli Gardens at the corner of Silver Street and Moss Street.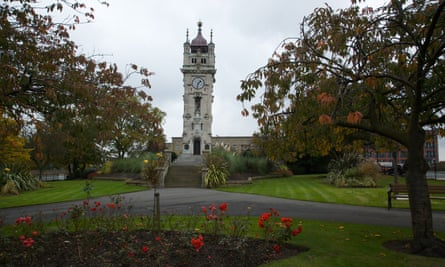 All of this is, I think we'd agree, quite fascinating. Yet many come to Bury principally for its black puddings. Legend has it that during a Wars of the Roses battle, soldiers hurled food at one another when ammunition dried up – white puddings for Yorkshire and black puddings for Lancashire. More credible is the idea that European monks brought blutwurst, or blood sausage, made from pig's blood, barley, oatmeal, pork fat, rusk and herbs – not least because cured meats could survive long journeys.
From as early as 1810, a small shop at 60 Union Street called Casewell's made and sold these black beauties; Bury Art Museum owns the shop's sign, which was rescued after being sold at auction in Harrogate. From 1865, a Cumberland wrestler called Joshua Thompson (presumably fed up with his home region's blander bangers) manufactured black puddings in his cellar on East Street. His great-grandson, Harry Reddish, is said to be the first person to have sold them on Bury Market. The business was eventually taken over by Edwin Chadwick, who became so famous for his secret recipe that he gave up general butchery to focus on black puddings. Edwin's daughter Mary and her husband Tony today make up to two tonnes of black puddings every week for the hotel and restaurant trade, and sell at stalls seven and eight in Edward Block in Bury Market. The Morris family claim theirs is the only locally based company making black puddings. They sell at stall number five in the same block. The outdoor market, which received its charter in the 1440s, is open Wednesdays, Fridays and Saturdays 9am-5pm. With 370 stalls, it's so big a map is on offer to help navigate it.
Bury black pudding is not a tourist gimmick like all that tweely packaged marmalade or "traditional" fudge. About 63% of Buryites are reported to consume their local speciality regularly. In 2002, it was reported, in an academic paper titled "Controlled prospective study of faecal occult blood screening for colorectal cancer in Bury, black pudding capital of the world" that black puddings could interfere with diagnoses. Far from being bad news for the trade, it made Bury more famous than ever. Subsequently scholars drew attention to the "possible therapeutic potential of the black pudding" as a rich source of iron and an ideal dietary supplement for those with anaemia – brought on, perhaps, by eating southern full Englishes minus the black stuff.
In my head, Bury is both tough and smart, black pudding and fine wine. As for the name, I always hear it as "burry" and in Bet Lynch's accent; Julie Goodyear, who played her, is from the area.
Things to see: Transport Museum, Fusilier Museum, East Lancashire Railway, Peel Tower
Wigan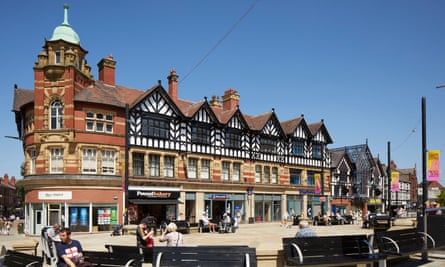 "Immense sales of cheap readymade meat pies," scoffed George Orwell. But for many Wiganers pies are more important than piers or politics. The rugby team's nickname, "the pie-eaters" allegedly refers to the starving Wigan miners who were the first to return to work during the 1926 General Strike. Leigh miners called their rivals "pie eaters" to remind them they had eaten humble pie and been less resilient than other picketers. As the son of a St Helens miner, I'm inclined to agree.
Good pies are widely available across the borough, at the big local chain Galloways (est 1971), and at Whittakers of Tyldesley (1958), Greenhalghs (1957, but more Bolton than Wigan), Dawsons (1912) of Atherton and award-winning Baldy's (2021), which recently made headlines for a lamb and Uncle Joe's Mint Ball flavour pie – the "most Wigan thing ever". This last recently announced plans to close its store and become a "dark kitchen" in the face of high energy bills. Sadly, Poole's Pies (1847), which once supplied vital half-time victuals to spectators at Wigan Athletic, ceased trading in 2018.
I love a good pie. But so does everyone. Artisan bakers have turned the ancient artefact into something to show off. What I like about Wigan's attitude to them is that it's all about the eating, because all pies are, ultimately, humble. Melton Mowbray may be the home of the aspic-swaddled British Pie Awards – judged on 8 March during British Pie Week – but Wigan, specifically Harry's Bar, inside the old Flemish-bricked Clarence Hotel, hosts the World Pie Eating Championship. The date for this year's event is still undecided as last year's was delayed by transport strikes till the end of January 2023. Locals are always happy to guide tourists through the tradition of eating a pie inside a barm cake, which goes by the name of Wigan kebab, Wiganburger or slappy. Steak pudding is "Babby's yed", best washed down with mushy peas or their runny residue, known as pea wet.
Wigan is a handsome town thanks to its Victorian heritage, the massive Trencherfield Mill, two railway lines, a major Leeds & Liverpool Canal junction, and surviving industrial buildings – not least the William Santus & Co toffee factory (of mint balls fame) on Dorning Street.
It's also worth looking for things that have gone. Wigan Flashes is a green and mossy Shangri-la born of mining subsidence and rewilding. The Lancashire Mining Museum is a dynamic memorial to the once-vital coalfield, and contains the only surviving intact pit headgear and engine house in the county.
Things to see: Mab's Cross, Mesnes Park, Museum of Wigan Life
Burton upon Trent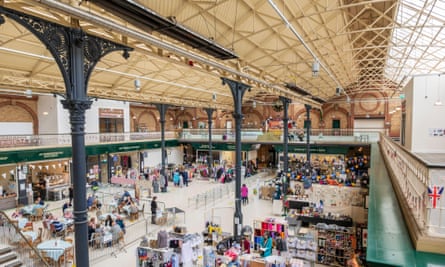 "Sadness as Burton's brewery museum set to close" – 29 October 2022. "New Burton upon Trent brewery museum could open in 2025" – 3 December 2022. In the month between these two BBC headlines, St Pancras International station hosted an exhibition titled "Built on Beer", reminding passengers that London's most beautiful terminus was bankrolled by the alluring amber and lush brown nectars produced in this East Staffordshire town. With the arrival of the railway in 1839, Burton's brewers were able to service an entire nation of drinkers. At Bass, the most famous local firm, output rose from just over 30,800 barrels in 1839 to 850,000 in 1879. The capital was an avid market, as Londoners were keen to swap their dark, monotone porters for more complex northern ales. The design of St Pancras included a capacious undercroft for delivery and storage of beer. Bass had extensive stables built for its drays. Other Burton firms, including Burton Brewery Company, Ind Coope & Co, Thomas Salt & Co and Marston & Thompson also exploited the St Pancras connection.
Provincial England is littered with boom towns that have become bust towns, but Burton's industrial heritage is particularly poignant. The reason beer is, or was, so good here is the hardness and mineral content of the local water. The Trent Valley's gypsum beds imbued pale ale with a winning bitter edge and the slightest whiff of sulphur. So successful was the recipe that competitors endeavoured to "Burtonise" their water. Eight thousand Burtonians were employed at 31 breweries by 1890. Burton, in its beer-making belle époque was a whirl of hops and malt, railways and canals and commerce. Leftover brewers' yeast was reduced into Marmite, made in Burton since 1902, adding further aromas to the town's addictive atmosphere. There was money and power in pints. A subgroup of rich brewers honoured with titles became known as the "Beerage". Bass's beautifully simple red triangle logo – created in 1876 and Britain's oldest trademark – appeared in artworks, including Manet's 1882 painting A Bar at the Folies-Bergére. Some of Picasso's cubist works allude to the Bass name and in the Oxen of the Sun section of James Joyce's Ulysses, Bloom notes the "scarlet appearance" of a bottle of Bass No 1 and imagines "writhing in the skies … it blazes, Alpha, a ruby and triangled sign upon the forehead of Taurus".
The dwindling of all this can turn dreamers to drink. The industry's museum, now closed, was the National Brewery Centre, in a building adjacent to the original Bass Brewery. It had been known as the Bass Museum of Brewing and the Coors Visitor Centre. As the renamings hint, the story of British beer is one of mergers and acquisitions, divestment and disappearance. Family brewers such as Ind Coope (comprising two surnames) and Allsopp were merged with Tetley Walker Ltd and Ansells Brewery, blandly rebranded as Allied Breweries, before becoming Carslberg-Tetley Brewing in 1993; but Ind Coope's Burton Brewery was sold to Bass at the end of the 1990s, and Bass sold to Molson Coors, with the Bass brand owned by Anheuser-Busch InBev. Never mind a piss-up in a brewery, the global monopolies have pissed on brewing traditions, a brewing town and, in the end, the very taste of beer.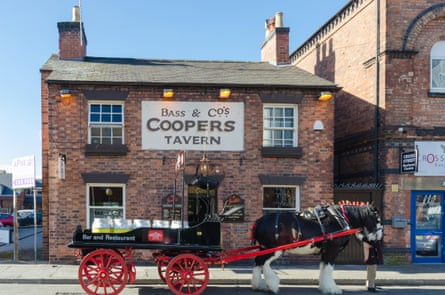 To recover from this historical hangover, have a pint at one or all of these pubs – the Elms, with its prominent Bass sign; the ancient Olde Royal Oak; or Coopers Tavern, a former malt store – before taking a walk along Station Street armed with an interactive Historic England map that pinpoints an Ind Coope brewhouse, Allsopp's old offices and a grain warehouse for the Midland Railway. The Camra-prize-winning Devonshire Arms is also on Station Street, so you may as well have an afternoon-cap there, too.
Marston's no longer offers brewery tours. But the fourth iteration of the Burton Ale Trail will take place in mid-March.
In the second world war pilots who crashed "in the drink", were also said to have "gone for a Burton". If this town doesn't sort out its museum and brewing heritage sharpish, it too will have gone for one.
Things to see: Claymills Victorian Pumping Station, Barton Marina, National Memorial Arboretum (Alrewas)
Workington and Whitehaven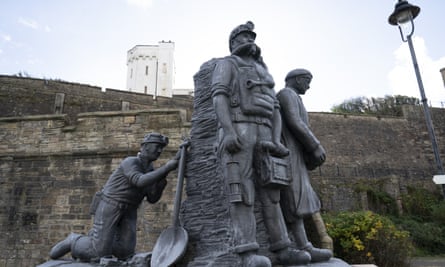 Cumbria finds itself divided by conserves. Dalemain Mansion near Penrith hosts the World Marmalade Awards and festival. Running every April since 2005, it raises funds for local hospices, and the winning marmalades are sold at Fortnum & Mason. There are heaps of ingredient options (Seville, dark and chunky, honey) and the refined spread shindig claims sister festivals in Japan and Australia.
Penrith is a fairly real place given the context of Cumbria, but we have to acknowledge that this posh, ostensibly Paddington-alluding event will appeal most to owners and guests of the smart B&Bs in the Lakes that provide cutesy little pots of royalty-approved marmalade at breakfast. As Kate Fox notes in her book Watching the English, "Dark, thick-cut Oxford or Dundee marmalade is favoured by the higher echelons, while the lower ranks generally prefer the lighter-coloured, thin-cut brands such as Golden Shred." Marmalade is about class.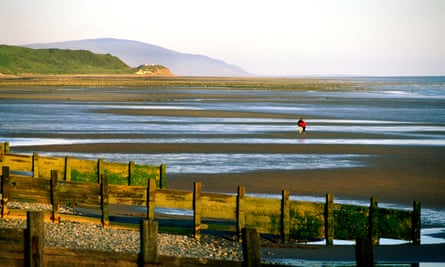 It is a social relief then to arrive at Workington and/or Whitehaven, and learn that the residents of each town have the same nickname for each other: jam-eaters. Both groups agree that the term goes back to mining days, when, according to one version of the story, colliers couldn't not afford to buy meat for the sandwiches in their snap tin, so had to eat jam instead. Some believe jam-eaters were those who worked in the sweltering deeper mines with poor ventilation, where corned beef or Spam might have gone off. A few local historians locate jam-eaters in particular mines or seams. A few see "jam eater" as an insult, most as a term of endearment and solidarity.
In 2019, a rightwing think tank caricatured northern male potential swing voters as "Workington man". Workington's name has nothing to do with the working classes. Weorc was probably an Anglo-Saxon leader sufficiently esteemed for the settlement ("tun") to be named after him. "Working" is a respelling. Still, a more industrial town would be harder to find. Workington has got its hands and lungs dirty from coal, iron, steel, and from manufacturing buses, railway rails, ball bearings and Sprinter trains. Whitehaven was a fishing town and a slaving port – with the busiest harbour after London in the 18th century – before it too became a coal-iron-chemicals centre. Both towns have rugby teams. Both are on the Cumbrian Coast Line.
Maryport, north of Workington, once had a jam factory. Last year a local firm started to produce peanut butter in the same town, a high-energy product ostensibly aimed at active outdoors types – ideal for undertaking the 15.3-mile walk between Maryport and Whitehaven. Part of the England Coast Path, it makes for one long day or two short ones.
There's a sort of social poetry in the juxtaposition of spent iron ore fields around the edge of the rugged fells that are England's most famous leisure space. Sadly, jam butties only seem to be available to children, at the Funhouse soft play centre.
Things to see: Beacon Museum, Helena Thompson Museum, Ennerdale Water, Rum Story, St Bees Head