The UK is pledging millions of pounds to help Moldova and Georgia protect themselves against Russian interference.
On a visit to the region, the Foreign Secretary James Cleverly will announce new funding to boost resilience against the destabilising impact of President Vladimir Putin's war in Ukraine.
The package will include an extra £10m to support economic and governance reforms in Moldova, as well as money to strengthen the security of next year's elections in Georgia.
Moscow will try to retrieve remains of US drone: Ukraine war latest
The Kremlin has been accused of trying to spread disinformation and unrest in both countries in an attempt to increase control in the region.
'Russian malign activity'
Ahead of the visit, Mr Cleverly said: "Few societies understand the underhand tactics of Russian malign activity more than Moldova and Georgia.
"The UK will not stand idly by while Moscow blatantly undermines their democracy, sovereignty and territorial integrity.
"We must reinforce their resilience to Russia's hybrid threats, safeguard the democratic choices of their people and protect them from the threat on their doorstep."
The visit follows claims by Moldova's pro-Western president, Maia Sandu, that Moscow has been planning to use foreign saboteurs to stage a coup.
Russia's foreign ministry previously rejected the allegations as "completely unfounded and unsubstantiated".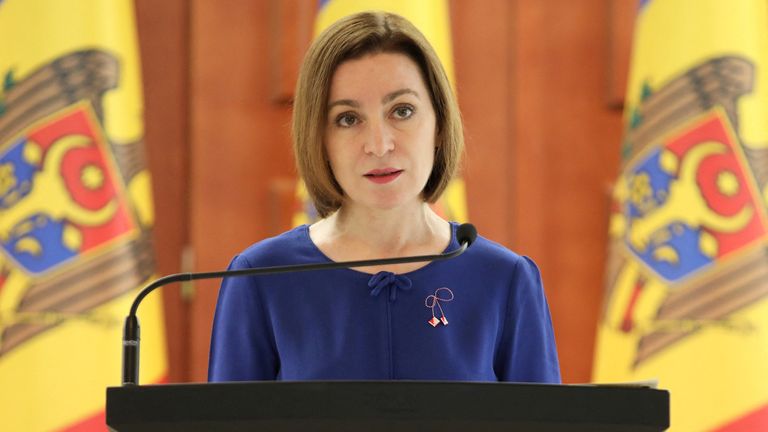 On Sunday, Moldovan police arrested seven people accused of instigating unrest during anti-government protests.
The £10m being announced on Thursday in Chisinau is in addition to £12m previously pledged by the UK to help improve transparency and tackle corruption.
The government says work is already under way to boost defences against cyber attacks, combat pro-Russian disinformation, reform the armed forces and build a stronger economy.
Putin 'trying to destabilise Europe'

Read more:
Russia-backed plot to cause unrest in Moldova has been foiled, police say
Wizz Air suspends flights to Moldovan capital Chisinau over 'elevated' airspace risk
Europe's entire future rests on Ukrainian victory, warns Moldovan minister
In Georgia, Mr Cleverly will see how collaboration on defence and cyber security is helping to protect against meddling by outside powers.
The UK is also providing £500,000 to help create "an environment for free and fair elections in 2024, protecting them from external interference".
Click to subscribe to the Sky News Daily wherever you get your podcasts
Last week, Georgia's government was forced to drop a controversial draft law, following mass protests and widespread international criticism.
Opponents feared the foreign agent registration bill could be used to stifle dissent and cut media freedoms.