Britons will have to wait just a few more weeks for a winter blast from the Atlantic to bring snowfall.
Temperatures look set to plummet, with mercury dropping to as low as -7C in parts of Scotland.
---
Snowfall is also anticipated to hit Scotland the hardest, with England and Wales not expecting any blizzard-like conditions between now and December 6.
Weather forecasting website WXCharts suggested up to 50 centimetres of snow could accumulate in Central Scotland on December 3.
WATCH NOW: Met Office weather forecast
Large parts of Scotland will experience snowfall at the time.
However, WXCharts suggested this will likely equate to around five to 15 centimetres in most places.
Temperatures in Scotland will also take a tumble over the same period.
Some places north of the border could see mercury drop to as low as -7C on December 3.
Snow depth across Scotland on December 4
WXCHARTS
However, other places will see temperatures remain marginally above freezing.
England and Wales will remain noticeably warmer but teeter towards 0C on early December mornings.
A small amount of snow will drop in parts of Scotland at the end of November.
People around Inverness could see almost 10 centimetres fall on November 24.
Low-levels of snow will remain in places going into December.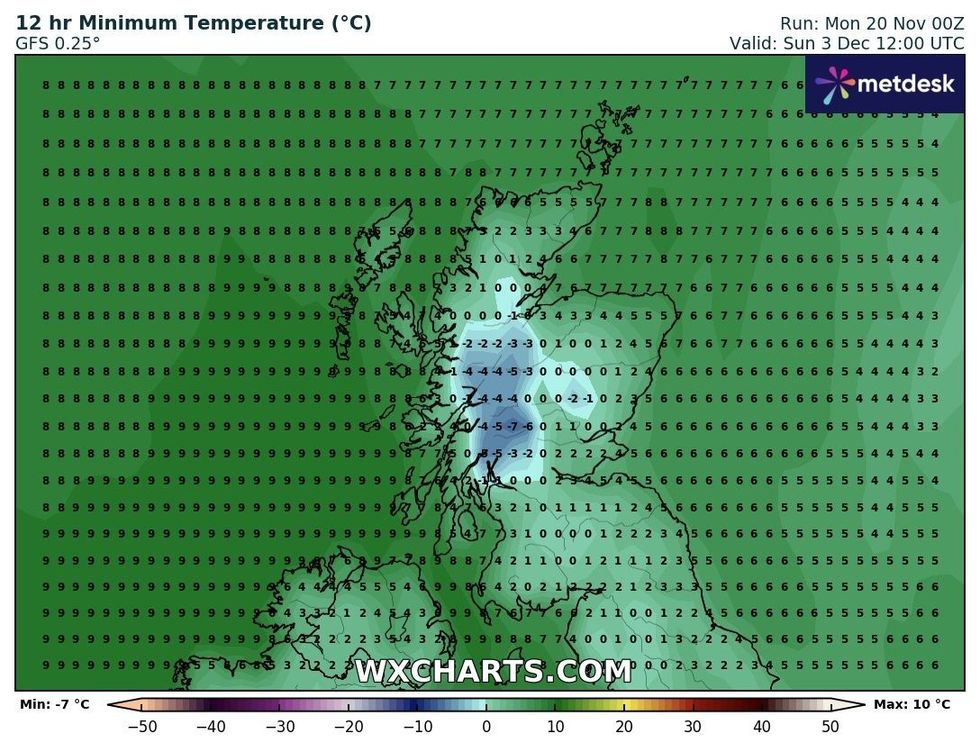 Temperatures across Scotland on December 3
WXCHARTS
However, the Met Office appeared to stop short of predicting snowfall in early December.
The UK national weather service's December 4 to 18 forecast said: "The most likely scenario through early December is for predominantly changeable weather, with spells of rain or showers and strong winds interspersed by short-lived drier, brighter periods, although there is a lower chance of more prolonged settled conditions developing.
"Rainfall amounts are likely to be near or above average, with the heaviest rain likely to be in the northwest at first, perhaps shifting further south towards mid-December.
"Temperatures will most likely be near or a little above average for the period as a whole, although some colder interludes are possible.
"As is normal in December, occasional frost and wintry showers are likely at times."