Defending champions Rangers will host second-place Celtic in the first round of matches following the Scottish Women's Premier League split – live on Sky Sports.
The Old Firm clash at Broadwood Stadium, on Monday March 27, will be the first league fixture shown on Sky Sports.
Celtic are currently second, a point ahead of Rangers in third, while leaders Glasgow City maintain a six-point gap at the top and visit Hibernian in the first round of matches after the split.
Sky Sports Director of Football, Gary Hughes, said: "With just one point separating Celtic and Rangers, as they battle with Glasgow City for the title, we're looking forward to bringing our viewers action from the first Old Firm league match live on Sky Sports since we started showing the SWPL last year. We're excited to showcase an exciting match on and off the pitch."
Elsewhere – on the weekend of March 25 – Hamilton Accies take on rivals Motherwell in a bid to move out of the relegation play-off spot, while Aberdeen – who are just two points clear of 10th – visit bottom-club Glasgow Women.
Partick Thistle – fresh from sealing their place in the top six – welcome Hearts, while Dundee United take on Spartans.
There are another two huge games on April 16 as Glasgow City host Celtic in a potentially pivotal game in the title race, while Hamilton Accies head to Aberdeen as both clubs bid to boost their survival hopes.
Just three days after facing Celtic, Glasgow City will then welcome Rangers to Petershill Park on April 19.
'One of the most compelling and competitive seasons'
Glasgow City's Leanne Ross says there is 'a long way to go' in the SWPL title race after being named permanent head coach

With the title at stake, Women's Champions League spots up for grabs and the battle to avoid the relegation play-off spot finely poised – there is plenty to play for over the next 10 rounds of matches, as each team plays every other side in their half of the table twice between now and the end of May.
SWPL managing director Fiona McIntyre said: "The 2022/23 season has already proved to be one of the most compelling and competitive in the history of the SWPL.
"The split adds an exciting new dynamic and one which has been well received by all stakeholders in the women's game.
"We are delighted to confirm the schedule for the remainder the season. Every fixture over the next two months will contribute towards the race for the title or battle to avoid relegation and we can expect plenty of drama as we reach the conclusion of the inaugural season under this new format.
"We look forward to welcoming fans along to enjoy what we anticipate will be a fantastic finale with the title, European qualification, and avoiding relegation all being played for."
Fixtures in full…
Gameweek 23 (March 26 unless stated)
Hibernian vs Glasgow City (March 25)
Partick Thistle vs Hearts
Dundee Utd vs Spartans
Glasgow Women vs Aberdeen
Hamilton Accies vs Motherwell
Rangers vs Celtic (March 27) – live on Sky Sports
Gameweek 24 (April 2)
Aberdeen vs Spartans
Celtic vs Partick Thistle
Hamilton Accies vs Glasgow Women
Hearts vs Glasgow City
Motherwell vs Dundee Utd
Rangers vs Hibernian
Gameweek 25 (April 16)
Aberdeen vs Hamilton Accies
Glasgow City vs Celtic
Glasgow Women vs Dundee Utd
Hibernian vs Hearts
Partick Thistle vs Rangers
Spartans vs Motherwell
Gameweek 26 (April 19)
Dundee Utd vs Aberdeen
Glasgow City vs Rangers
Hearts vs Celtic
Hibernian vs Partick Thistle
Motherwell vs Glasgow Women
Spartans vs Hamilton Accies
Gameweek 27 (April 30)
Aberdeen vs Motherwell
Celtic vs Hibernian
Glasgow Women vs Spartans
Hamilton Accies vs Dundee Utd
Partick Thistle vs Glasgow City
Rangers vs Hearts
Gameweek 28 (May 3)
Aberdeen vs Glasgow Women
Celtic vs Rangers
Glasgow City vs Hibernian
Hearts vs Partick Thistle
Motherwell vs Hamilton Accies
Spartans vs Dundee Utd
Gameweek 29 (May 7)
Dundee Utd vs Motherwell
Glasgow City vs Hearts
Glasgow Women vs Hamilton Accies
Hibernian vs Rangers
Partick Thistle vs Celtic
Spartans vs Aberdeen
Gameweek 30 (May 10)
Aberdeen vs Dundee Utd
Glasgow Women vs Motherwell
Hamilton Accies vs Spartans
Hearts vs Hibernian
Rangers vs Partick Thistle
Celtic vs Glasgow City (May 11)
Gameweek 31 (May 14)
Dundee Utd vs Glasgow Women
Glasgow City vs Partick Thistle
Hamilton Accies vs Aberdeen
Hearts vs Rangers
Hibernian vs Celtic
Motherwell vs Spartans
Gameweek 32 (May 21)
Celtic vs Hearts
Dundee Utd vs Hamilton Accies
Motherwell vs Aberdeen
Partick Thistle vs Hibernian
Rangers vs Glasgow City
Spartans vs Glasgow Women
Scottish Premiership & SWPL on Sky Sports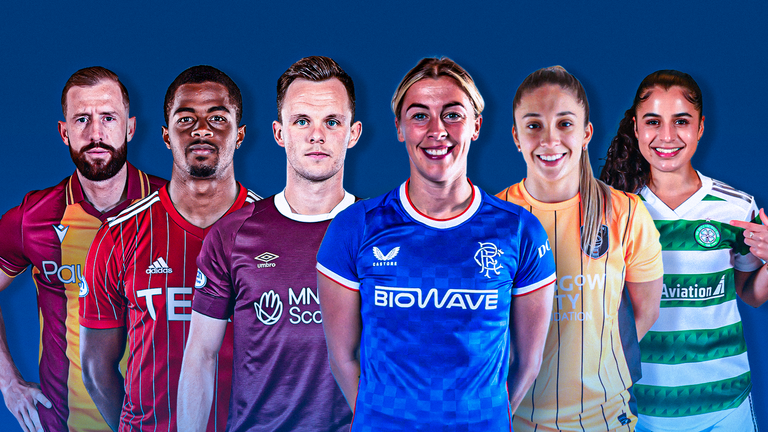 Sky Sports – This season up to 48 cinch Premiership games will be available across Sky Sports' flagship channels, including Sky Sports Football and Sky Sports Main Event, plus at least five SWPL matches. From 2024/25, up to 60 cinch Premiership will be live on Sky Sports, in addition to the SWPL.
Sky Sports News – Running 24 hours a day, seven days a week, Scottish football fans can enjoy Sky Sports News' (channel 409) rolling editorial coverage of the cinch Premiership and SWPL throughout the season.
Sky Sports Digital – Follow all the latest from Scottish football across skysports.com and app, including exclusive features and interviews, plus dedicated live blog coverage, in-game clips from matches live on Sky Sports and free highlights.
Sky Sports Social – Alongside coverage and visibility for the league across all Sky Sports' main social media channels, the bespoke Twitter channel @ScotlandSky will continue to be the home of all Scottish football content on Sky Sports.
Highlights show – Tune in for a dedicated round-up from the cinch Premiership every week on Sky Sports Football.
To download the Sky Sports app click here, to visit Sky Sports website click here.
Sky Sports is the home of domestic football in the UK and Ireland, with more than 400 games per season across the SPFL, SWPL, Premier League, WSL, and EFL.