At age 28, Colin Prater named CGA Les Fowler Player of the Year — and earns Mid-Am award — for 2nd time; Jon Lindstrom (senior POY) and John Hornbeck (super-senior POY) also honored
By Gary Baines – 11/20/2023
Colin Prater accomplished a great deal in tournament golf in 2023, but it was a moment during a practice round that's most indelibly etched in his memory from this year.
It came as the 28-year-old resident of Colorado Springs was reacquainting himself with Cherry Hills Country Club on the eve of the U.S. Amateur in August. On the 18th hole — where considerable golf history has been made, including by Arnold Palmer in the 1960 U.S. Open and Jack Nicklaus at the 1993 U.S. Senior Open — Prater reveled in a family moment with wife Madi, and then-less-than-1-year-old daughter Blake, and his parents.
"You definitely take away memories from everything," Prater said in a recent phone interview. "The best memory I had was playing Cherry Hills in the practice round and walking up 18 fairway, talking with my wife and my caddie and carrying my daughter up the fairway. She's giggling and laughing and we're having a good time. That's something I will never forget: that moment, and the joy we all had. My parents were there with us, (and) carrying my daughter, it was such a neat experience. It's such a cool feeling, that whole walk down by the lake up to the clubhouse at Cherry. I'll never lose that memory."
Though it likely won't top that, Prater recently learned he's earned a prestigious honor that no doubt also will be memorable from 2023. The player from Cherokee Ridge Golf Course was named CGA Les Fowler Player of the Year for the season that just ended.
It's difficult enough to garner that award once, but Prater has earned it twice in the last four seasons. To put that into perspective, the last time a competitor earned the CGA Les Fowler POY for the second time (or more) was 2008, when Pat Grady made it two in a row.
Beyond that, with the honor first awarded in 1978, only four other players have won it more than once: Rick DeWitt (six times between 1991 and 2006); Tom McGraw (in 1987 and '89), and Steve Jones (1980 and '81). Jones and DeWitt are in the Colorado Golf Hall of Fame, and Jones went on to win eight times on the PGA Tour, including a U.S. Open.
"I'm very honored to do it, especially because there's so many good players in the state of Colorado," said Prater, who also captured the award in 2020, when he swept the CGA's open-age majors (the Amateur and the Match Play) and was low amateur in the Inspirato Colorado Open. "I think it shows I'm kind of like a fine wine; it's almost like I've gotten better as I've gotten older — which is kind of crazy.I'm super, super honored. It's really fun to be able to play in all the state stuff. The CGA does such a good job. We're real lucky as a group of players to be able to play in their events because they're run so well. 
"But it's just a testament to the fact that I've been putting in a lot of hard work and had a pretty successful year."
The CGA Les Fowler Player of the Year honor typically goes to a college-age golfer, but there are certainly exceptions, and the 28-year-old Prater is one of those. Since 2007, just three mid-ams (age 25 and older) have been the Les Fowler Player of the Year: Michael Harrington (2014), Chris Thayer (2021) and Prater, who has pulled off the feat in both 2020 and this year. 
In fact, Prater is not only the CGA open-age POY in 2023, but he's also been named the CGA Mid-Amateur POY for the second time in four years. Harrington and Thayer also captured both awards in the same year.
Prater's Mid-Amateur Player of the Year honor came after a year in which he successfully defended his title in the CGA Mid-Am — and did it with a seven-stroke victory margin this time around.
"I remember looking at all the names on the tee sheet before the tournament started and I was like, 'Holy Toledo, there's 20 different guys that can win this golf tournament,'" Prater said. "So to be able to emphatically win — to win by seven — that was definitely a huge accomplishment that I'm super proud of."
Besides Prater earning open-age Player of the Year and Mid-Am Player of the Year, two other golfers recently landed men's POY honors — Jon Lindstrom of Lakewood Country Club (Senior POY) and John Hornbeck from Saratoga in southern Wyoming (Super-Senior POY). Their 2023 highlights are noted below. (Note: A story on the CGA women's players of the year will be published later this month.)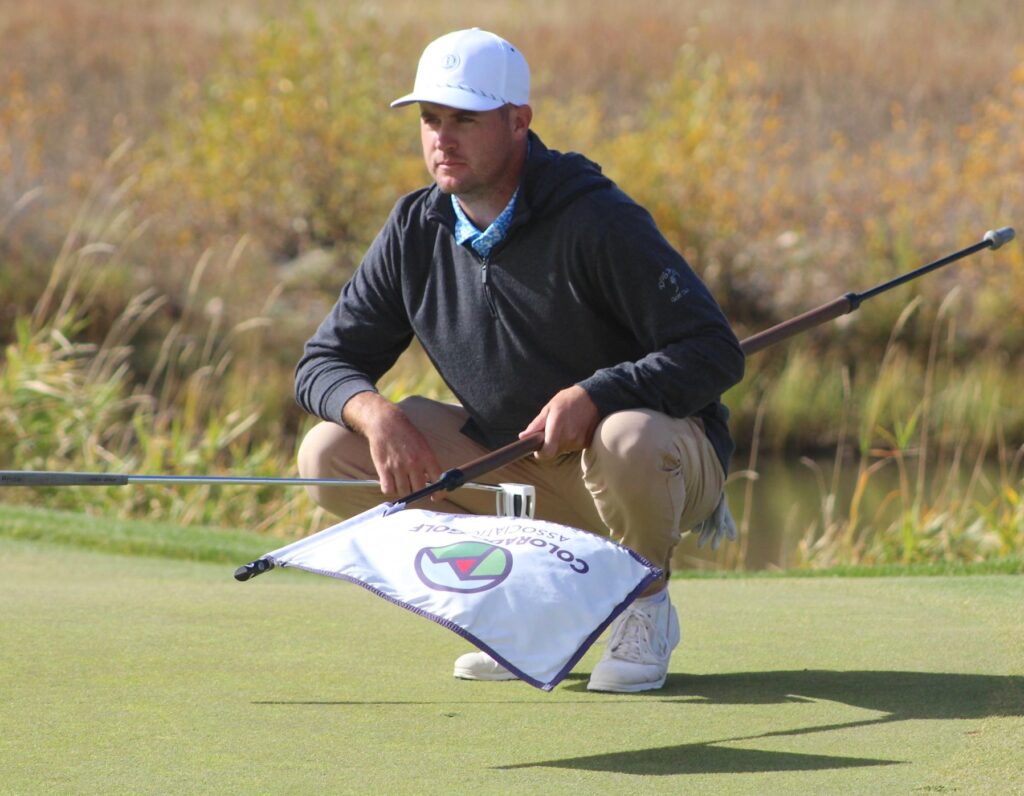 (Photo: Brendan O'Keeffe)
Although Prater competed almost exclusively in Colorado in 2023, he put together quite a record in local, statewide and national/international events. For good measure he even caddied in a USGA championship — for Coloradan Logan Hale at the U.S. Girls' Junior at Eisenhower Golf Club.
Prater posted victories in the CGA Mid-Am (for the second straight year) and in the Colorado Springs City Championship (for the eighth time in 10 years). He twice earned medalist honors in USGA qualifiers — for the 2023 U.S. Amateur and the 2024 U.S. Amateur Four-Ball (the latter with Jimmy Makloski). In the CGA's two men's majors, Prater placed runner-up in the CGA Amateur and was a semifinalist in the CGA Match Play, where he lost to eventual champion Nick Nosewicz. Prater led by two going into the final nine holes of the CGA Am at RainDance National, but a run of four straight bogeys on the back nine led to him finishing a stroke behind champion Dillon Stewart. 
Last, but certainly not least, at the 312-man U.S. Amateur at Cherry Hills, Prater advanced to match play, then forced extra holes in the round of 64 by getting up and down from 201 yards uphill and into the wind on the very difficult par-4 18th hole. Alas, he went on to fall in 21 holes to Arizona State golfer Ryggs Johnston. Prater was one of just four mid-amateurs to make match play in the U.S. Am at Cherry Hills.
Prater gives credit to Stewart for his performance in the CGA Amateur on a difficult golf course, "but to kind of give away (the win), that was a very difficult pill to swallow," he said. "But at the exact same time, I used that loss as motivation to try to try to make the match play at the U.S. Am; that was part of the reason I was able to."
Out of all he accomplished in 2023 on the golf course, of what was Prater most proud?
"Making the match play (at the U.S. Amateur) kind of was a statement to myself that I can compete with some of the best players in the world," the former University of Colorado-Colorado Springs golfer said. "Obviously I've got a lot of room to grow and a lot of things to improve on, but that kind of gave me a glimpse that the potential to compete with some of the best players in the world. 
"Also, to be able to defend my title in Steamboat at the state Mid-Am, that was a really difficult accomplishment. It was a difficult golf course (Haymaker) and the conditions were difficult."
When Prater earned his first CGA Player of the Year award in 2020, he was still single. This time around, as noted above, he has a wife and a very young daughter. Add in teaching biology at Cheyenne Mountain High School and serving as an assistant coach in boys and girls golf there, and his plate is pretty full. That can make keeping an elite-level golf game in tip-top shape a challenge at times. But the summer break from teaching helps — as does being efficient with the time he does devote to his game.
"Being a dad and having all of those life changes, they take away a lot of time. So obviously it's special" to be named Player of the Year again, he said. "To be honest, I didn't really expect it. I know I had a fairly successful year, but this one I think was more unexpected."
Indeed, as time has passed following his tremendous 2020 season, it's made Prater better appreciate what he accomplished that year — winning both CGA men's open-age majors and being the low amateur in the Colorado Open. This year, he gained the Player of the Year honor in a different way, but it's at least equally satisfying.
In 2023, his strong play has yielded a rare invitation. The Patriot All-America is annually held late each calendar year at the Wigwam in Litchfield Park, Ariz., and almost the whole field is comprised of top college golfers; they're invited by the Golf Coaches Association of America. (In fact, Prater competed in the event on three occasions while at UCCS.) But this year he did receive an invite as a mid-am — a rarity. Other locals scheduled to compete in the event in 2023 (Dec. 29-31)— but who are all college players — are Connor Jones of Westminster (CSU), Justin Biwer and Dylan McDermott (CU, with Hunter Swanson playing in the Thunderbolt sister event). Lauren Lehigh of Loveland (University of New Mexico) and Sabrina Iqbal (CU) are in the women's field. Iqbal had the opportunity to turn pro and compete in the upcoming LPGA Q-Series, but opted to complete her one and only season at CU and have Epson Tour status when she turns pro next year.
As for Prater being invited to The Patriot, "They decided they wanted to start inviting back previous players," he said. "They offered me an invitation because of (the season I had). It's a really neat tournament (that honors fallen soldiers or severely wounded ones in partnership with the Folds of Honor Foundation). They kind of invite the best of the best. I'll compete to win, but a top-10 would be successful there."
Another Colorado mid-am who had an outstanding year was Parker Edens, a graduate of Greeley Central and Colorado State University. Edens advanced to the quarterfinals of the U.S. Mid-Amateur and finished second overall at the Inspirato Colorado Open, capturing low-amateur honors in the process. He made it to the semifinals of the CGA Match Play, and won the CGA Four-Ball (with Makloski). Out of state, the head coach of the men's golf team at South Dakota State won the South Dakota Golf Association Match Play title.
As for other 2023 CGA men's players of the year — in addition to Prater: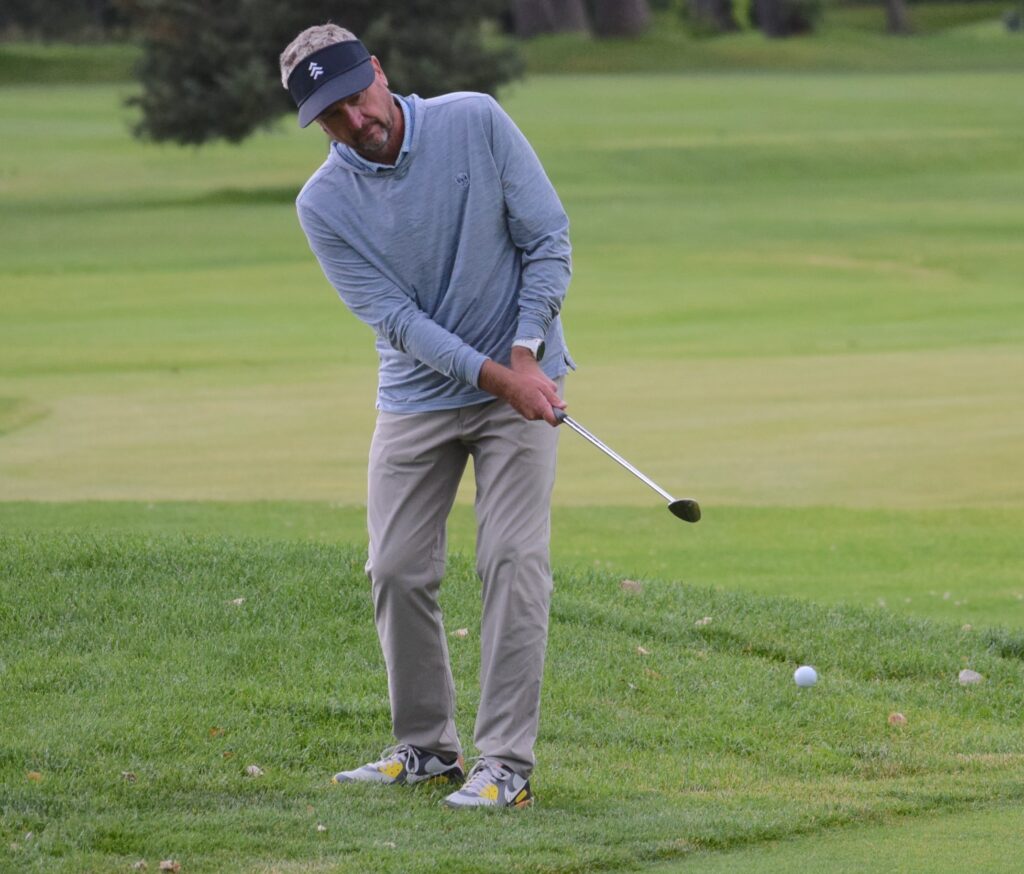 Jon Lindstrom is among the top-ranked male senior amateurs in the world.
— CGA Senior Player of the Year: Jon Lindstrom of Lakewood Country Club: To say that Lindstrom dominated this playing category is quite an understatement as he prevailed 3,070-965 over runner-up Victor Minovich in the CGA's men's senior points standings.
That probably comes with the territory for a guy who is ranked No. 6 in the world among men's amateurs 55 and older — and who was recently named to Global Golf Post's Men's Senior Amateur first team, comprised of the top 10 male senior golfers from around the world.
Lindstrom, 56, swept the CGA's senior majors — the Senior Match Play and the Senior Amateur — in his first full season competing in that age group. He beat Minovich 2 up in the final of the Senior Match Play and defeated Minovich again at the CGA Senior Amateur — this time by one stroke. He also captured the senior division title of the CGA Western Chapter Championship. That gives him a dozen CGA championship titles in his career, including three Mid-Amateurs.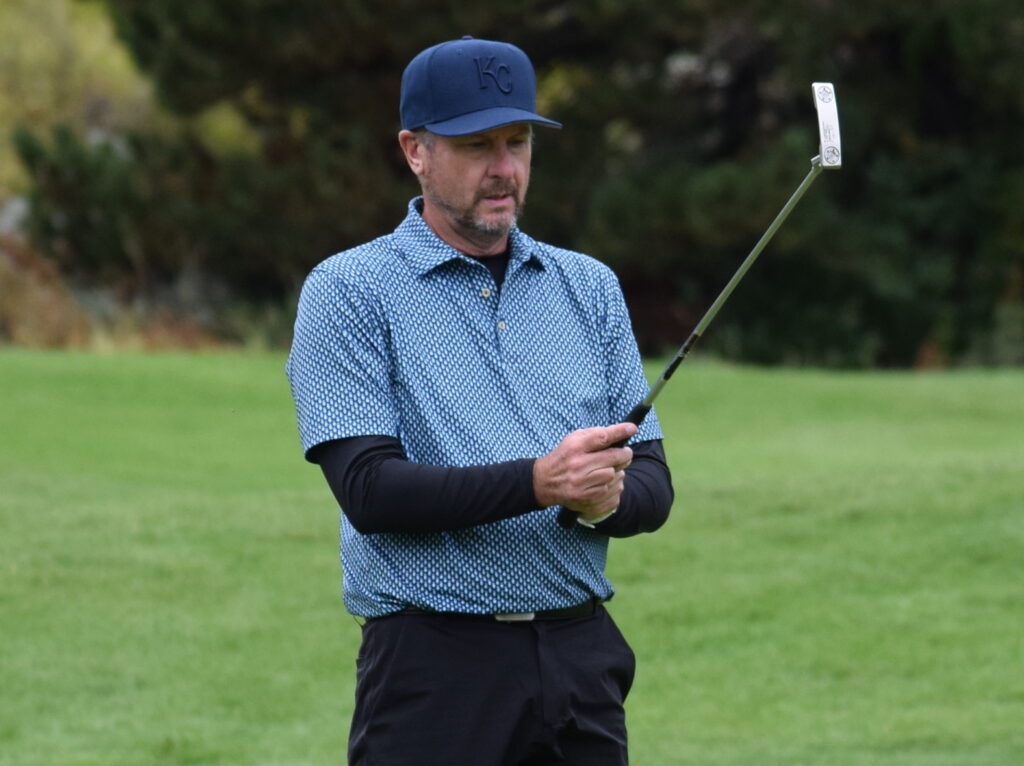 Nationally and internationally in 2023, the Denver resident won the Trans-Miss Seniors and the Heron Creek National Senior Invitational, and tied for ninth in the British Senior Amateur and advanced to the round of 64 at the U.S. Senior Amateur.
Although most major senior amateur competitions are limited to players 55 and older, Lindstrom has been tearing it up at the Inspirato Colorado Senior Open on and off since age 50. All four times he's played in the event, he's finished low amateur. In 2020, he forced a playoff in the overall competition before placing second to Harry Rudolph.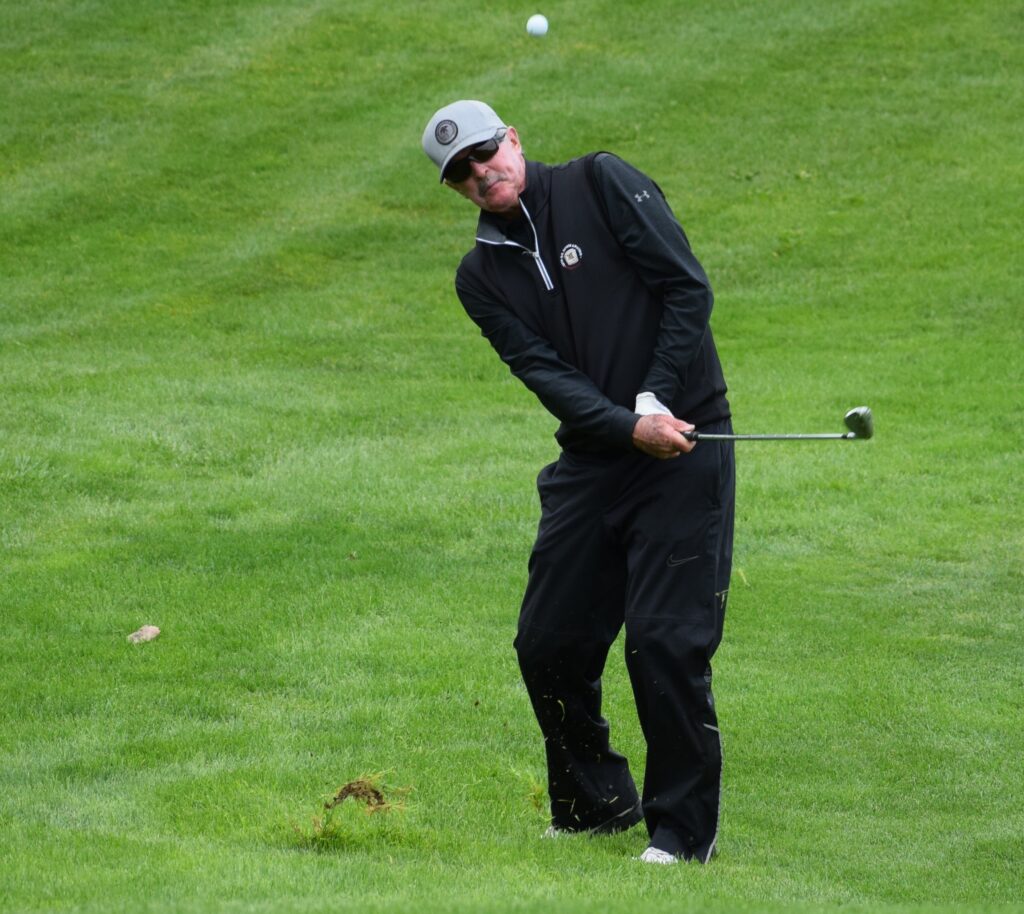 Wyoming resident John Hornbeck continues to contend in CGA senior and super-senior competitions.
— CGA Super-Senior Player of the Year: John Hornbeck, a CGA member from Saratoga, Wyo.: Hornbeck, a regular in CGA senior championships in the last decade or so, made a splash in his first CGA super-senior championship by winning the CGA Super-Senior Amateur by one stroke at Pueblo Country Club.
It was the fourth CGA state titles for the 65-year-old, who previously prevailed in the 2018 Senior Match Play, the 2019 Senior Amateur and the 2021 Senior Four-Ball (with Robin Bradbury). Besides that, Hornbeck is a 2018 inductee of the Wyoming State Golf Association Hall of Fame, having won 13 WSGA titles.
"I love it down here (in Colorado) because we get to play all these new venues that I've never played before," he said. "I don't have a bunch of (mental) scars from any of the holes, so I just shoot a number (to the pin) and fire at it. It really is kind of fun."
This year, besides his victory in the Super-Senior Amateur, Hornbeck advanced to the round of 32 of his fifth U.S. Senior Amateur after earning medalist honors in Colorado-based qualifying for that event. He placed fourth in the CGA Senior Amateur.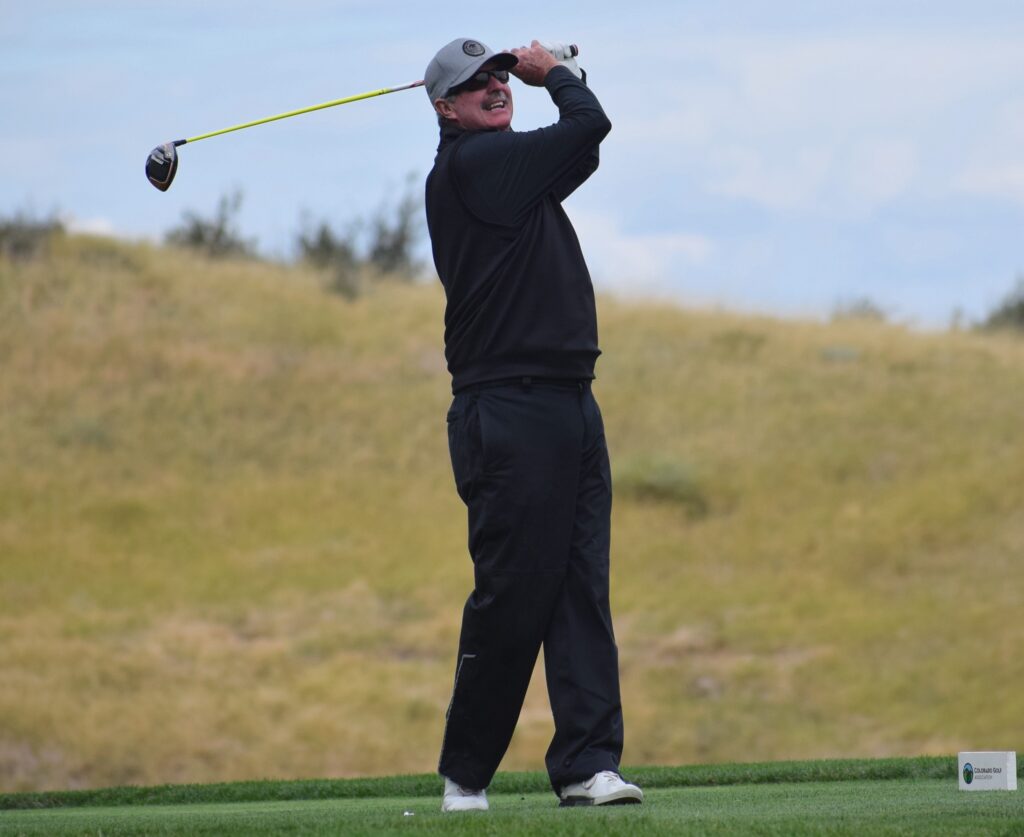 About the Writer: Gary Baines has covered golf in Colorado continuously since 1983. He was a sports writer at the Daily Camera newspaper in Boulder, then the sports editor there, and has written regularly for ColoradoGolf.org since 2009. He was inducted into the Colorado Golf Hall of Fame in 2022. He owns and operates ColoradoGolfJournal.com